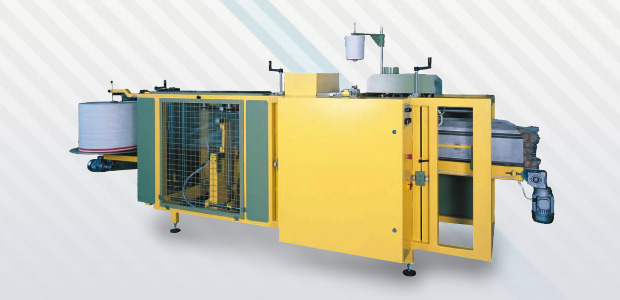 Raschel fabric batch of the size placed on the unwinding board. Despite guiding rollers is fabric batch poised to carrying chain. In this part of the machine is placed front sliding blade provides Raschel batch cut in the desired size of bag. Proper fit of Raschel ensures latching mechanism. At the bottom of the machine is mounted outfeed conveyor, ensuring the transfer of filled bags.
The entry hole comes packaged goods into the prepared the Raschel bag, the full bag is moved by force of carrying chain to the sewing head. With chain stitch sewing head sewn the Raschel bag. The heat knife separate out the full bag. . In the working cycle of sewing is ability to insert pre-printed labels from the roll or label printing directly applied type of printing devices such as ink-jet printer.
Staff collet full bag in output of the machine and stored on the EUR pallet. The output of the machine can be equipped with take-off conveyor.
Technical parametres
| | |
| --- | --- |
| Power supply | 3x230/400V/50Hz |
| Supply | 2,7 kW |
| Weight range | 2 – 25 kg |
| Compressed air consuption | 40 l/min |
| Potential capacity for 2 kgs | 8 bags / min. |
| Potential capacity for 25 kgs | 3 bags / min. |
| Maximal noise | 79 dB |
| Applied Sewing head | FISCHBEIN |
| Applied Ink-jet printer | IMAGE Ink-jet ONDRASEK |
Figure